Wood working is an enjoyable profession or hobby that is thoroughly enjoyed by millions of enthusiast across the world. But even the most enjoyable activity can turn deadly if proper safety precautions aren't implemented correctly.
The tools used to carve and shape wood can be very dangerous if not used correctly. Only individuals who are properly trained should use wood working machinery and tools. Failure to follow safety rules and regulations can lead to great bodily injury and financial losses.
Below are 5 safety rules that will insure an enjoyable and safe wood working shop:
1.
READ
all safety instructions and user manuals before attempting to use any safety tools. Not only should you read these instructions but make sure that you understand the instructions and tool you are attempting to use. If you have any doubts call the manufacturer or ask a professional.
2.
WEAR
the proper safety gear and appropriate clothing. Safety glasses, dust masks, gloves, and hearing protection is just the bare minimum needed to be safely protected in a wood shop. Safety gear protects from potential hazardous bodily injuries such as wood splinters or hearing loss from loud machinery. Additionally, avoid wearing loose clothing because they will certainly get caught in dangerous blades or cutting heads.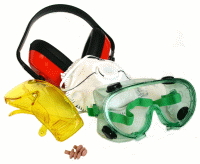 3.
CHECK
equipment. Make sure that all machinery is grounded before use. Also before cleaning, inspecting, or utilizing equipment, assure that the power cord is plugged out. Disconnecting electricity ensures your safety because many wood workers have loss body parts by not implanting this very critical rule. There are measures you can take to remind yourself to disconnect electricity such as using 1 extension cord or by attaching a wrench to power cables (locking out the power source).
4.
STAY
out of the shop if intoxicated. While it's okay to enjoy alcoholic beverages or maybe you took a prescription pill for an aching back, NEVER step into a wood shop and operate machinery while under the influence of any drug. It's risky and you put yourself and others in danger.
5.
CLEAN
up before and after utilizing the wood shop. When cleaning before your project, check your inventory for missing items such as screws, bits, and any other loose metals. Always keep work station and surrounding areas clean of clutter and dust. Make sure that floors are non-slip and spill free. Practicing good cleaning will minimize injuries and unnecessary accidents.